【International Contest】Vietnam: FPT University: SWIN-BIZ-ROCKSTAR WHERE IMAGINATION TO INNOVATION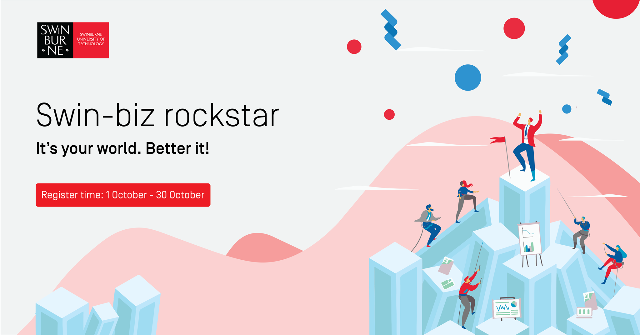 Swinburne Vietnam to kick-off Innovative Business Ideas Competition
With a high appreciation of creativity and innovation, the Swin-Biz-Rockstar Business Idea Contest organized by Swinburne Vietnam has officially opened the registration form for students of all Vietnamese and international universities.
Warm greetings from FPT Educational Global!
We hope this email finds you well.
On behalf of Swinburne Vietnam - an international alliance between Swinburne University of Technology and FPT University, we are pleased to invite students from your institution to join in SWIN-BIZ-ROCKSTAR contest organized by Swinburne Vietnam. The contest is an innovative competition for all young people not only in Viet Nam but also abroad, who have the enthusiasm and desire to bring effective solutions for the environment and other social issues such as new business ideas, business strategies, or technology solutions.
In addition to providing a useful playground for students, SWIN-BIZ-ROCKSTAR is also a great opportunity for young people to learn a lot of practical experience from businesses or receive mentoring and training from competent and experienced businessmen.
The contest is accompanied by investment experts and industry advisors from Swinburne Vietnam, FPT, and international corporations with many years of experience and sharp perspectives including Shark Louis Nguyen - CEO of Saigon Asset Management (SAM), Mr. Hoang Nam Tien - Chairman of FPT Telecom (FTel), Dr. Jimmy Tan - Senior Manager and Professor of Communications at Singapore University of Social Sciences, Dr. Hyeon Yeo - Professor of AI Business Transformation Program, KAIST, South Korea, Prof. Gordon Campbell - Marketing Professor of Swinburne University of Technology, Australia, etc.
Interested students can find more detail about the contest here and register to join here before November 20, 2021.
For further information and news about the contest, students interested in Swin-Biz-Rockstar can read the news on the contest's Fanpage or contact via swincontest@fe.edu.vn.
We deeply appreciate your efforts to share this information within your institution and look forward to having your students joining us at this fascinating contest.
Best regards,
FPT Education Global