【Scholarship】FPT University (Vietnam): Remote Internship Scholarship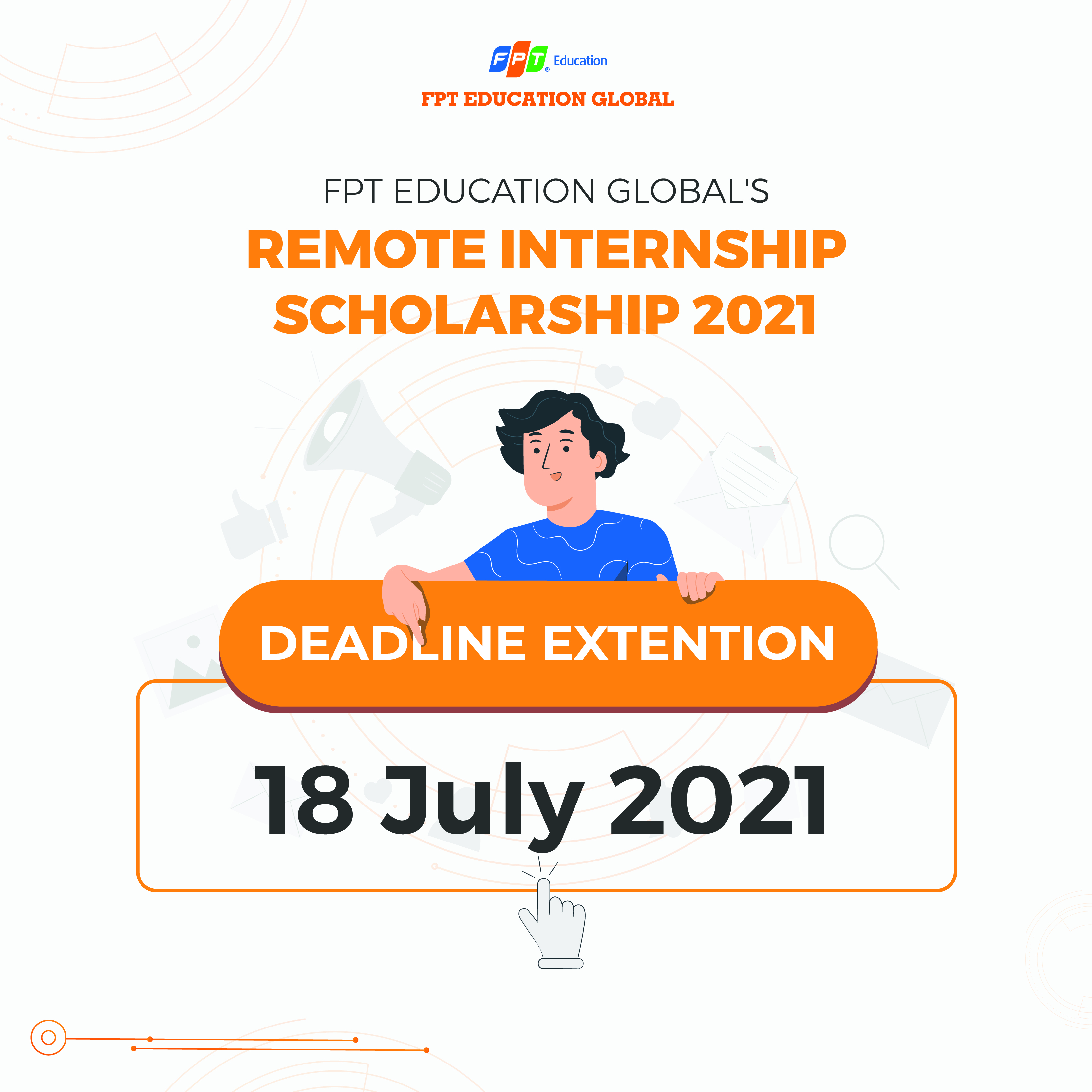 REMOTE INTERNSHIP SCHOLARSHIP 2021
FPT Education Global's Remote Internship Scholarship (Marketing)
靜宜大學越南姊妹校FPT University提供2021年8-11月遠距線上實習機會(限行銷領域/大三、大四靜宜在學學生可申請),且有機會申請獎學金唷!!!
Providence University's partner from Vietnam, FPT University provides 3 months remote internship during August - November 2021 opportunity! Check it out!
FPT Education Global's Remote Internship Scholarship (FEGRIS) is offered to students applying for the Remote Internship placement program provided by FPT Education Global with a company in Vietnam.
FEGRIS is awarded to high-achieving undergraduate students from our network of international partners.
The scholarship is intended to provide opportunities for students to:
Explore career options, gain professional experience, develop industry-affiliated skills, and interconnect classroom learning to the 21st century world of work - a place that is constantly shifting and changing with the future-oriented demands of digital skills and virtual talents from all over the world;
Immerse and learn about different people from different cultures to develop awareness and an international mindset of a global citizen.
For the inauguration year 2021, FEGRIS only confers Marketing positions. We hope to expand the horizon in the near future.
Dates & Details:
FPT University Application period: 21 June - 18 July 2021

(Providence University Internal Application deadline (extension): Thursday, 15 July 2021)

Interview: July 2021
Announcement: August 2021
Internship period: 3 months*
| | | | |
| --- | --- | --- | --- |
| Category | Value | Number | Internship Starts |
| FULLY-FUNDED SCHOLARSHIP | 100% of up to $1,100 Remote Internship program | 4 scholarships | August 2021 |
| PARTIALLY-FUNDED SCHOLARSHIP | 50% of $800 Remote Internship program | Up to 10 scholarships | September 2021 |
Eligibility 申請資格:
Currently

enrolled at Providence University
Full-time undergraduate student in their 3th or 4th year (or equivalent)
Accumulative

GPA of 2.5/4.0

and above (or equivalent)
English proficiency of

IELTS 6.0

and above (or equivalent)
Be able to attend this

full-time remote internship

program in full duration
Requirements and selection criteria for the

Marketing

internship position can be found

HERE

.
Scholarship Benefits 獎學金包括:
Full or partial scholarship for the remote internship program provided by FPT Education Global
Waived admission fee
Experience first-hand an

all-remote international professional

setting;
Mentorship opportunities for both professional and personal development;
Immersive cultural exchange opportunities with students from Vietnam, Japan, Australia and more;
Professional preparation and development workshops***
Application Requirements 備審資料:
You are required to submit in-full the FEGRIS Application Form with the following supporting documents before 17:00 on July 5th 2021 for scholarship consideration to Mr. Mark Lan:
有意申請者,請於2021年7月5日(一) 17:00 前將備審資料email至 Mr. Mark Lan: yslan@pu.edu.tw
Certified academic transcript

, either scanned or electronic, translated into English if it is officially in your native language;

Curriculum vitae

detailing your education, work experience (full-time and/or part-time), extracurricular activities, voluntary activities, community service, student associations and projects, prizes, awards and certificates, and other relevant experience locally and internationally;

Cover letter

providing insights on how you see yourself in the position, how your past and current experience might be relevant to the internship, and why this internship might be important to you and your aspirations;

Proof of English proficiency

. The English requirement is IELTS 6.0 or equivalent (such as TOEFL, PTE, and other English proficiency test results, provided evidence);

Letter of recommendation

from a professor, teacher or faculty member at your university commending on your academic performance, personal quality, leadership quality and any relevant extracurricular and voluntary involvement.
NOTE: Only shortlisted candidates will be contacted for an interview
FPT University於6月29日 (二) 台灣時間下午 3:30 - 5:00 舉行線上實習說明會,有意參加者,須於下方網址完成註冊 (名額有限)。
Sign up for student info session 2:30 PM - 4:00 PM, 29 June 2021 (GMT+7) - invitation-only, first-come-first-serve basis: https://forms.gle/V7pJj59g1qoh38GMA